I bought a whole cabbage for making siomay bandung (Bandung style fish steamed dumpling), had lots leftover since I didn't need too much cabbage for that. I browsed a recipe of Holubtsi. I see this dish every special day or season at my husband's family house, we didn't eat them until uncle George realized that both of us don't consume pork. Lately, he always makes vegetarian version Holubtsi so all can eat, including us.
According to wikipedia, there are several variations of cabbage rolls; Golubtsy – Russia, Gołąbki (little pigeons) – Poland, Halubcy – Belarus, Holishkes – Ashkenazi Jewish, – Czech Republic and Slovakia, Holubtsi – Ukraine, Kåldolmar – Sweden, Kaalikääryle – Finland, Kohlroulade and krautwickel – Austria and Germany, Lahana dolması – Turkey, Rouru kyabetsu (ロールキャベツ) – Japan, Sarma – the Balkans, Sarmale – Romania, Töltött káposzta – Hungary, Malfoof – Jordan (Middle East).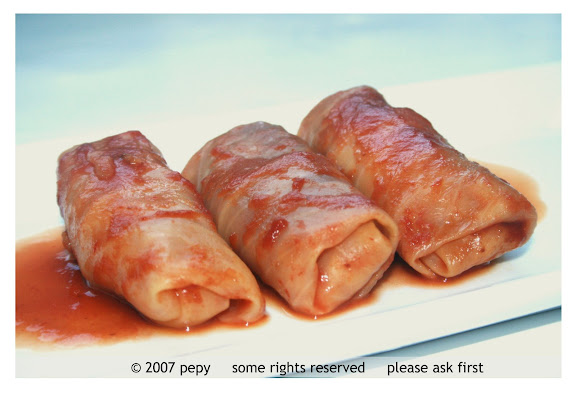 For some reasons, I came up with an idea by adding dashi no moto (Japanese instant fish stock base) and also used tomato paste instead of tomato juice that my husband's family usually use. Cheating method of mine, cook the rice with a rice cooker!
Ingredients:
1 medium head cabbage
1 1/2 cups uncooked long-grain white rice
2 onion, chopped
1/2 package dashi no moto
salt and pepper to taste
1 can tomato paste, mix with 1.5 – 2 liter water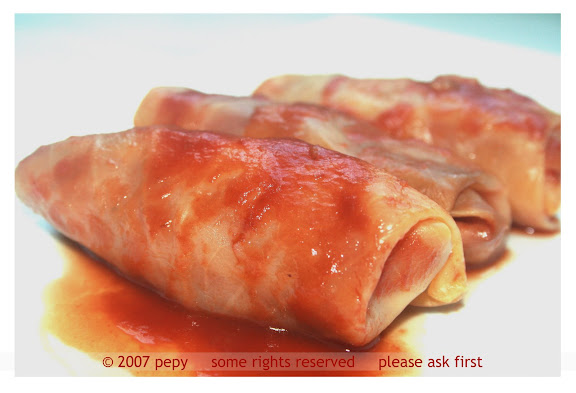 Directions:
1. Preheat oven to 325 degrees F (165 degrees C). Grease a 2 quart casserole dish.
2. Steam the whole head of cabbage until soften. Meanwhile, cook rice in 3 cups of water in a rice cooker.
3. Melt butter in a large skillet over medium heat. Saute onion until translucent, and add dashi no moto; stir and remove from heat. Add cooked rice, combine. Season with salt and pepper to taste.
4. Cut the leaves off of the cabbage and cut the larger leaves in half. Spoon 1 tablespoon of rice into a leaf and roll tightly. Place rolls in prepared casserole dish, stacking in layers. Pour tomato paste mixture over the rolls, using enough just to cover.
5. Cover and bake for 2 hours.