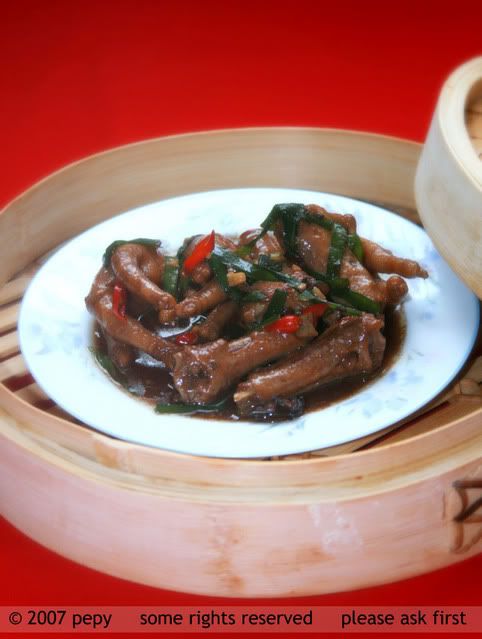 If you go to Dimsum restaurants, you will see chicken feet on the menu. They usually add angkak (also known as Beni-koji, Hong Qu, Hung-chu, Monascus; Red Koji, Red Leaven, Red Rice, Red Yeast Rice, Xue Zhi Kang, Zhitai) to get red effect in the sauce. I made a different style by using black bean sauce (Indonesian: taosi/tausi) and omitting angkak.
Ingredients A:
500 gchicken feet, cleaned, rinsed off, and halvedpotong jadi dua
1 tbsp light soy sauce
2 tbsp mushroom soy sauce
1 sdm rice vinegar (can be substituted for regular vinegar)
2 star anises
500 ml broth (I used ready to use seafood broth)*
Ingredients B:
3 Chinese chives (Indonesian/Chinese: kucai, Vietnamese: he)
2 red chillies, sliced
3 cloves garlic, crushed and chopped
2 tbsp black bean suace
2 tbsp oyster sauce
1 tbsp sesame oil
1/2 tsp ground white pepper
1 tbsp mushroom soy sauce
1 tsp corn starch, dissolved in a small amount of water
2 tbsp oil for sauteing
* If your broth doen't contain any salt, you can add salt into ingredients B as well. Be very careful to add salt, due to the saltiness of black bean sauce.
Directions:
1. Combine ingredients A together, except star anise and broth. Marinate for 30 minutes. Deep fry chicken feet until cooked/done.
2. Prepare a presurre cooker, add chicken feet, star anise and broth. Cook for 15 minutes. If you don't have a pressure cooker, just use a pot, but it will takes more time than 15 minutes.
3. Heat up a skillet at medium-high. Add garlic and stir fry until fragrant. Add chili and remain ingredients, except corn satrch mixture.
4. Transfer chicken feet mixture into the skillet. Bring to a boil and cook until done. Add corn satrch mixture to thickened.