I didn't expect that bakso turned good. In Indonesia, people usually make bakso from king mackerel fish (Indonesian: tenggiri), but so far I have tried two different fish to make bakso, mullet (Indonesian: belanak) and this basa hypophtalmus (Indonesian: patin siam; scientific name: Pangasius hypophtalmus).
Especially for this basa, I have a different preparation by drizzling the fillet over with lime juice or calamansi juice and let stand for 15 minutes. From 500 g basa fillets, yield 30 fishballs.
Anyway, let's talk a bit about basa. Basa is what the Indonesians are called for Patin. Here are some species of Basa/Patin that are found in Indonesia (according to http://www.bi.go.id/sipuk/id/lm/syariah/ikan_patin/pendahuluan.asp):

Indonesian Local Patin with a scientific name Pangasius spp. One of popular exported comodities is patin jambal (Pangasius djambal Bleeker), live in the big rivers in Indonesia. Patin Kunyit is another kind of basa that lives in the Riau's big rivers.O
Pangasius polyuranodo (ikan juaro), Pangasius macronema (ikan rios, riu, lancang), Pangasius micronemus (wakal, rius caring), Pangasius nasutus (pedado) dan Pangasius nieuwenbuissii (ikan lawang) only live in the East Kalimantan's rivers.

Patin bocourti (Pangasius bocourti) lives in the rivers in Vietnam, and exported comodity to North America, Europe and several Asian countries.

Patin siam (Pangasius hypopthalmus) can be called for patin bangkok or lele bangkok in bahasa Indonesia.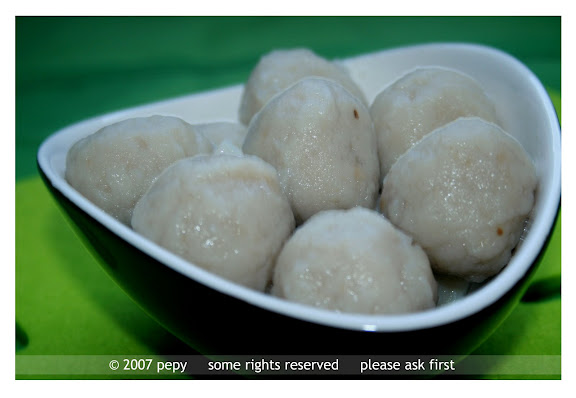 Ingredients:
500 basa fillets, drizzle with lime juice and calamansi juice over, let stand for 15 menit, then rinse off with tub water
200 g arrowroot starch (Indonesian: tepung garut); can be substituted for sago starch or tapioca starch as well
3 cloves garlic
2 tbsp ready to use fried shallot
1 1/4 tsp sesame oil
1 tsp ground white pepper
salt and sugar to season as desired
150 ml cold water (you can use ice cube)
ready to use broth (I used canned of vegetable broth that is sold at Asian markets)

Directions:
1. Heat up the broth to 80 degrees C, never get broth boiled and keep the temperature at 80 degrees C.
2. Process all ingredients, except broth in a food processor until smooth and well-blended.
3. Take a tablespoon of fishball dough and shape into ball. Put the ball into simmering broth and do this method until all mixture done. Cook the fishballs until floating.
4. Angkat bakso dan letakkan dalam mangkok berisi es batu dan air dingin